The Australian Inventor Who Brought His AI-Driven Stethoscope Project to Penang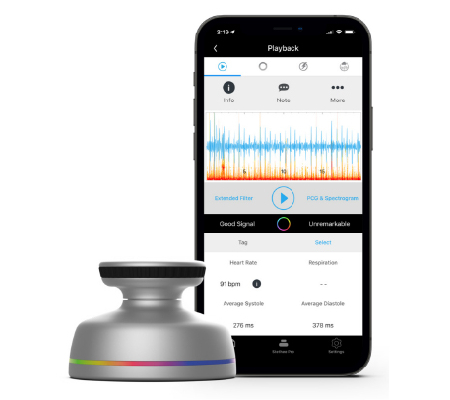 GaN – A Crystal that Foretells the Future?
Reducing Wind Noise for Better Two-Way Crisis Communications
"Better Eyes" for Machines that See Micro – Cracks in Solar Wafers
A 3-Musketeer Start-up Which Now Designs ICS for the Global Market
THE M3DICINE, CLARION MALAYSIA & CREST STORY
In 2015, DR. NAYYAR HUSSAIN, the CEO and Founder of M3DICINE Pty Ltd (Australia), was on an urgent mission. Having invented an artificial intelligence-enabled (AI-enabled) stethoscope, he travelled around the world to find a suitable location to manufacture his device for the global market.
"We travelled to China, Taiwan, Korea and other places. We were introduced to the ecosystem in Malaysia by a great mentor of mine, Professor (Anthony J.) Sinskey of the Massachusetts Institute of Technology (MIT)."
"Professor Sinskey knew that I had been travelling to look for great partners. And, when we met up in Kuala Lumpur, he said – Look, there is a really great ecosystem in Penang that you should explore. We made the necessary contacts, flew up to Penang, and met with CREST. The rest is history as we ended up selecting Malaysia as our country of manufacture," he said.
"Well, it has been an action-packed, fast-paced, opportunity-filled partnership. The relationship with CREST has been really a catalyst for M3dicine. We were a start-up, and it helped accelerate us to reach a stage where we could reach out quickly. With initial manufacturing available, we could take units out for testing in the US and then on for the US FDA clearance."
Dr. Nayyar Hussain, CEO and Founder of M3DICINE Pty Ltd
Dr. Nayyar cited the following reasons for choosing Penang and Malaysia:
A location in closer proximity to Australia;
No language barrier issues;
The history of high-tech manufacturing in Penang, backed by the existence of MNCs with long manufacturing histories;
An impressive local manufacturing eco-system; and
CREST's immediate response to his queries, including an introduction to his soon-to-be partner in R&D and manufacturing: Mr. T.K. Tan of Clarion Malaysia.
"There were also introductions to the Ministry of Health, universities and medical schools. So, this was music to our ears, in the sense that we have this fantastic ecosystem wherein within a stone's throw away, we were able to access key opinion leaders from across those partnerships as well."
"In other countries, you have the challenges of language and culture. Here, it was very easy for us to slide into working and establishing a great relationship with our partners," he said.